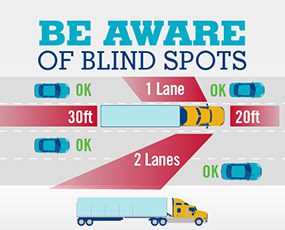 The results of the Large Truck Crash Causation Study indicate that roughly 14 percent of large-truck crashes occur due to commercial motor vehicle drivers' inadequate surveillance.
At Truck Writers, we realize that roughly 80 percent of crashes involving a truck are caused by passenger vehicles. However, as our country works toward zero deaths, we need to work on also eliminating the other 20 percent. That's why this month's safety tip deals with combating inadequate surveillance.
Be Aware of Blind Spots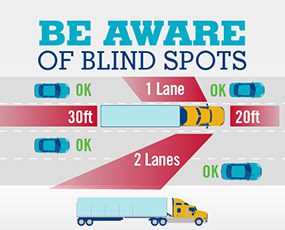 It's very important to be aware of your blind spots. Others on the road may not be familiar with commercial driving. These individuals also most likely have no idea where or how large your blind spots are.
Therefore, CMV drivers must be vigilant in surveying their surroundings to prevent a crash as a result of inadequate surveillance.
Checking your mirrors every 5 to 8 seconds will also help you spot and avoid overtaking vehicles.
Practice Defensive Driving
According to the FMCSA, defensive driving is a way of operating your vehicle to avoid accidents due to the actions of others.
The best ways to practice defensive driving are to:
Keep your distance
Maintain a safe speed
Stay alert
Keep Your Eyes on the Road
It's crucial to avoid distracted driving habits while operating any type of vehicle. By keeping your eyes far enough ahead on the road, you will be able to respond to changes in traffic conditions. The FMCSA defines "far enough ahead" as being approximately 1/4 of a mile on the interstate and 1-1/2 blocks in the city.
Truck Writers works with its clients in the trucking industry to enhance safety cultures. To learn more about the advantages of partnering with one of the leading insurance agencies in the Midwest, contact an agent today.