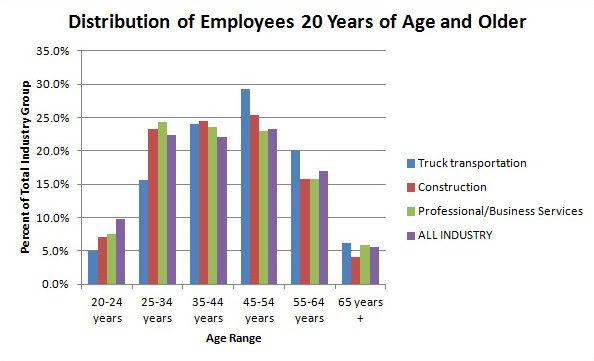 In August, the U.S. unemployment rate fell to 5.1 percent—the lowest since April 2008—when employers added 173,000 jobs. However, that percentage could be even lower.
Today, there are many, albeit it too many, driver positions open within the trucking industry. In fact, the Driver Shortage category  rose to the 2nd place ranking in the American Transportation Research Institute's (ATRI) annual "Top Industry Issues" research, and it is estimated that by 2017 there will be a driver shortfall of close to 400,000.
One of the main issues the trucking industry is facing when it comes to filling open positions is finding younger candidates. As of 2014, there are more truck drivers age 65 or older (6.1%) than there are drivers in the 20 to 24 year old range (4.9%); this trend is not present in other workforce categories as seen in the below graph.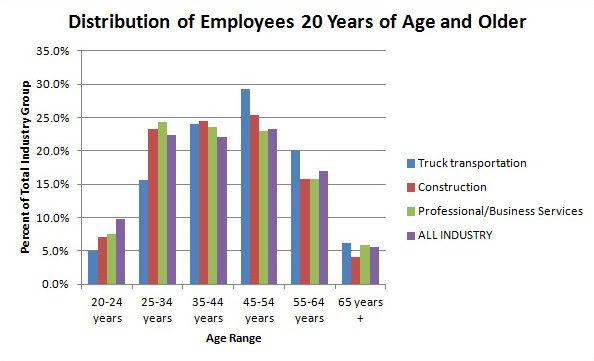 Age restrictions are in part to blame. For instance, an individual must be 21 years or older to obtain a commercial driver's license, which results in a three-year post-high school gap. Therefore, those choosing to not obtain a higher education are oftentimes recruited by other industries, thus made unavailable to the trucking industry once they are of age to obtain the appropriate license.
Now the trucking industry is left wondering, will there be enough experienced 25-34 year olds to take the place of the larger 45-54 age cohort retirement rolls around in 10 to 20 years?
One solution is already being utilized by many companies. Trucking companies see females as a large untapped labor pool that may help ease the expected driver shortfall in 2017.
According to a Bloomberg Business article, Derek Leathers, CEO of Werner Enterprises, Inc., expects female drivers to make up about 10 percent of his company's 9,000 drivers by the end of 2015—almost twice the national average. Not only has bringing more females on as drivers relieved some of the shortage stress on the company, but Werner Enterprises is also seeing benefits in terms of performance. According to Leathers, female drivers are actually outperforming the males.
However, convincing a female to join an industry that has been catered almost solely to males in the past is not easy. The first couple of steps have been take though as the industry as a whole is working on improving the cleanliness of terminals, promoting schedules that guarantee home time, promoting the automatic transmission of today's freight haulers and ensuring safer truck stops.