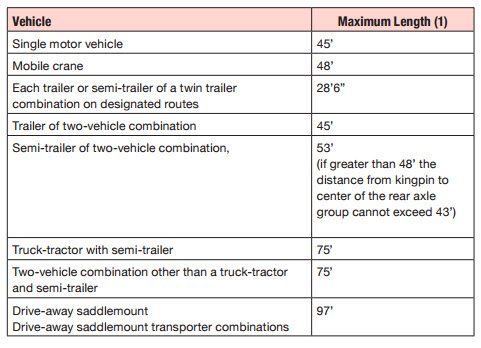 Truck Writers recognizes that roughly 80 percent of crashes involving a truck are caused by passenger vehicles. However, as our country works toward zero deaths, we need to work on also eliminating the other 20 percent. That's why our 2017 blog series will be Trucking Safety Tip of the Month. Once a month we will provide a new tip. Come December, all 11 will be compiled for the final post of the series.
That being said, this post's trucking safety tip of the month tackles size.
Federal Size Regulations for CMVs
Width. Size regulations have been around since the passage of the Federal-Aid Highway Act of 1956. This original Act provided a maximum vehicle width of 96 inches, which was increased to 102 inches (8 feet, 6 inches) with the 1982 Surface Transportation Assistance Act (STAA). The 102 inches excludes mirrors and other safety devices.
Length. In addition to the width of a truck, the STAA also regulated the length. Congress established minimum length standards for most commercial truck tractor-semitrailers and for twin trailers pulled behind a truck tractor.
Truck Tractor-Semitrailer Combinations: The minimum allowable length limit for the semitrailer is 48 feet or the grandfathered limit for a particular state. A state may not impose an overall vehicle length limit on a truck tractor-semitrailer combination.
Truck Tractor-Semitrailer-Trailer Combinations: The minimum allowable length limit for trailers and semitrailers is 28 feet. States must allow the use of semitrailers that are 28 feet, 6 inches long that were in use on Dec. 1, 1982. However, the overall length of the combination cannot exceed 65 feet.
For a list of grandfathered semitrailer lengths and additional combinations: click here.
Minnesota Length Regulations.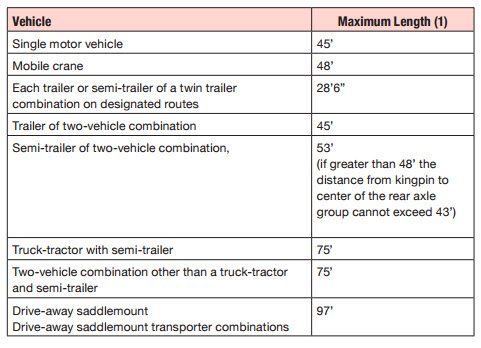 Height. Currently, there is no Federal vehicle height requirement for CMVs. This is set by each state and typically ranges from 13 feet, 6 inches (Minnesota) to 14 feet.
We hope you've found this information useful. The next post in this series will be published February 8, and will discuss speeding.
Truck Writers specializes in insuring its partners in the trucking industry. To receive a trucking insurance quote, contact an agent today!